The staff here at Chapter One Food & Drink go above and beyond to provide exceptional service. From culinary execution to front of house service, our team strives to give you the absolute best dining experience possible.
Whether it's a first date or an anniversary celebration, a night out with friends, or a father-daughter dinner, everyone has a Chapter One… and every chapter thereafter should be celebrated! We are here to help you do just that. We thank you in advance for letting us be a part of your beginning, middle, or end!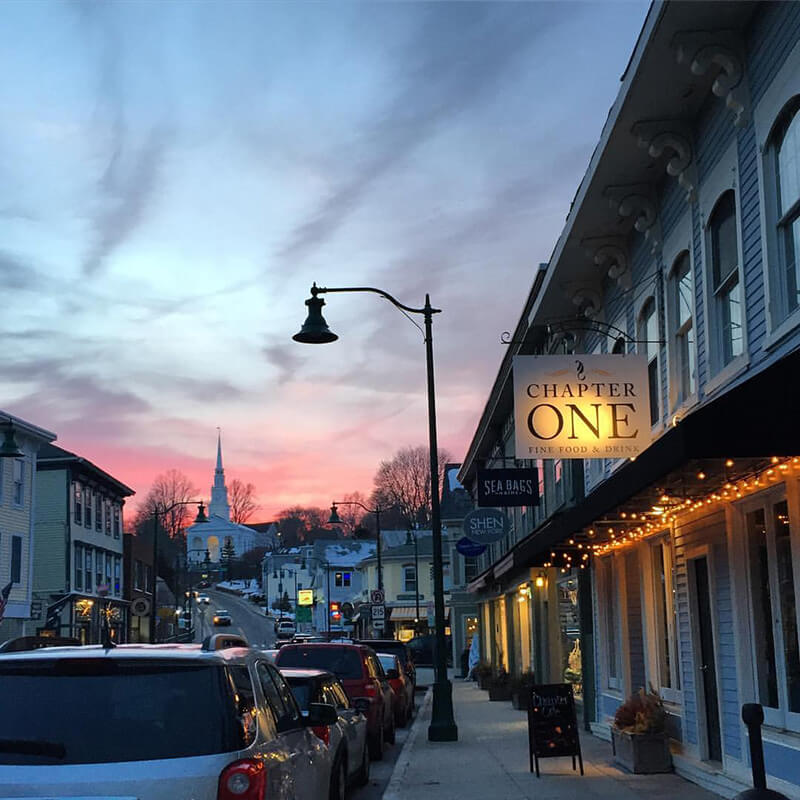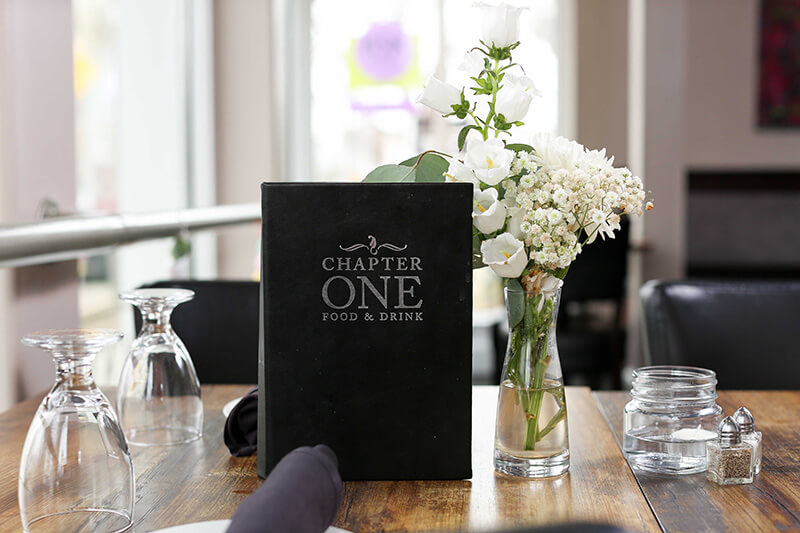 Our team at Chapter One prides itself in the superior selection of dishes that we offer our guests. From fresh seafood prepared to suit your taste to our grilled to perfection Chapter One Burger, we're confident that your mouth will be watering as soon as your plate hits the table.
We want Chapter One to be a place that everyone can come celebrate. If you have a specific dietary requirement, don't hesitate to ask our staff how we can accommodate you or for any suggestions to help make your dining experience stellar.
New American Fare with a Twist

At Chapter One, we're here to help you celebrate every chapter of your life in a setting unlike any other. Come for the incredible food and drinks and stay for the ambiance. You're sure to find countless reasons to come back for every occasion, and we'll be here with open arms and a cold drink.
Eclectic American Fare - Something for Everyone
With a menu sure to appease everyone's palate and a setting that's comfortable and casual, we're sure to become your go-to spot for years to come. Our guests have been choosing us to help celebrate moments big and small since we opened our doors in 2016.
Bar and Restaurant
With a selection of beers on tap at each location, hand-crafted cocktails, and a friendly atmosphere, we truly believe that Chapter One is a restaurant for all. Bring your family and friends to celebrate new beginnings, happy milestones, or bittersweet endings. We're ready and honored to help host everything from business meetings to private parties.
Dine-in, Take Out, Order Online, Delivery, Reservations
However you'd like to enjoy your meal by Chapter One, we'll make it happen. Dine with us in our incredible restaurant or take yours to go. Stop in on a whim or make your reservation online. Don't feel like leaving the house? Have it delivered. It doesn't matter to us how you get your meal; all that really matters is that you enjoy it and that we can guarantee.
Happy Hours in Mystic and Guilford CT
Both locations in Mystic CT and Guilford CT offer Happy Hour Specials most days of the week! Featuring our hand-crafted cocktails and other happy hour food specials, meet your team after your workday is over, or get your evening started with your friends and family at Chapter One Food & Drink!
Best Brunch
On the weekend, we brunch. Join us for live music, Bloody Mary's, and mouth-watering food on Sundays from 10 am-3 pm. Our menu is a little bit of breakfast mixed in with a little bit of lunch featuring benedicts, stuffed french toast, salads, and burgers. Kick the week off right and join us for what's sure to be your new favorite tradition!
Private Parties & Events
With the ideal space to entertain in Mystic and our beautiful outdoor space in Guilford, Chapter One Food & Drink is a go-to spot for weddings, rehearsal dinners, baby and bridal showers. Or maybe you're ready to book your holiday party after a long year – whatever you want to celebrate, we're happy to help! Contact us to find out how we can accommodate your next gathering in one of our locations.
Live Entertainment
Not only does our menu offer something for everyone, but our live entertainment line-up does too! From acoustic duos to DJ entertainment, you can find a variety of live music options in both locations of Chapter One Foot & Drink.
Locally Owned #shoplocal #food
Born out of a local friendship between two neighborhood buds, Chapter One has combined the talents of owners Daniel Van Kruiningen and Kenneth Fontaine along with their love of food and drink to create a fine dining experience loved by all. Their passion for delivering top-notch service and using locally sourced ingredients has set our restaurant apart since 2016.
At Chapter One, we believe in supporting the local community not only through our own service but also by using local suppliers and merchants for our fresh ingredients. If you ask us, that's why our food is some of the best that you'll ever have! Come enjoy a meal with us and taste the difference.

Two Locations to Serve Anyone Looking for "Best Restaurant Near Me"
Next time you're trying to settle the great debate of "where do you want to eat?" just steer towards one of our two locations that are guaranteed to satisfy even the most discerning of appetites.
Mystic
In Heart of Downtown Mystic
32 W Main Street, Mystic, CT 06355
Monday - Thursday: 12 PM to 12 AM
Friday: 12 PM to 1 AM
Saturday: 10 AM to 1 AM
Sunday: 10 AM to 12 AM
Our Restaurant in Mystic
Chapter One's original location is in the heart of downtown Mystic, CT, just past the infamous Mystic Drawbridge. Many people already associate our town with awesome pizza thanks to the movie Mystic Pizza—but there's more to the town than delicious pies! Besides the local cuisine, we also have the Mystic Aquarium, Mystic Seaport, Mystic Seaport Museum, and, of course, Downtown Mystic. The downtown scene comes alive with live music, and we offer a variety at Chapter One ranging from acoustic musicians to DJs on the weekends. Stop by for some of the best fine dining in Mystic.
Guilford
On the Guilford Green
25 Whitfield Street Guilford, CT 06437
Monday - Friday: 1130 AM to 10 PM
Saturday & Sunday: 10 AM to 10 PM
Our Restaurant in Guilford
We chose Guilford, CT for the location of our second restaurant. This charming town is in New Haven County and offers the same great atmosphere and incredible food and drinks as the original Chapter One. Come join us at the best restaurant in Guilford and let us help you celebrate everything from milestone birthdays to a meal with good friends.