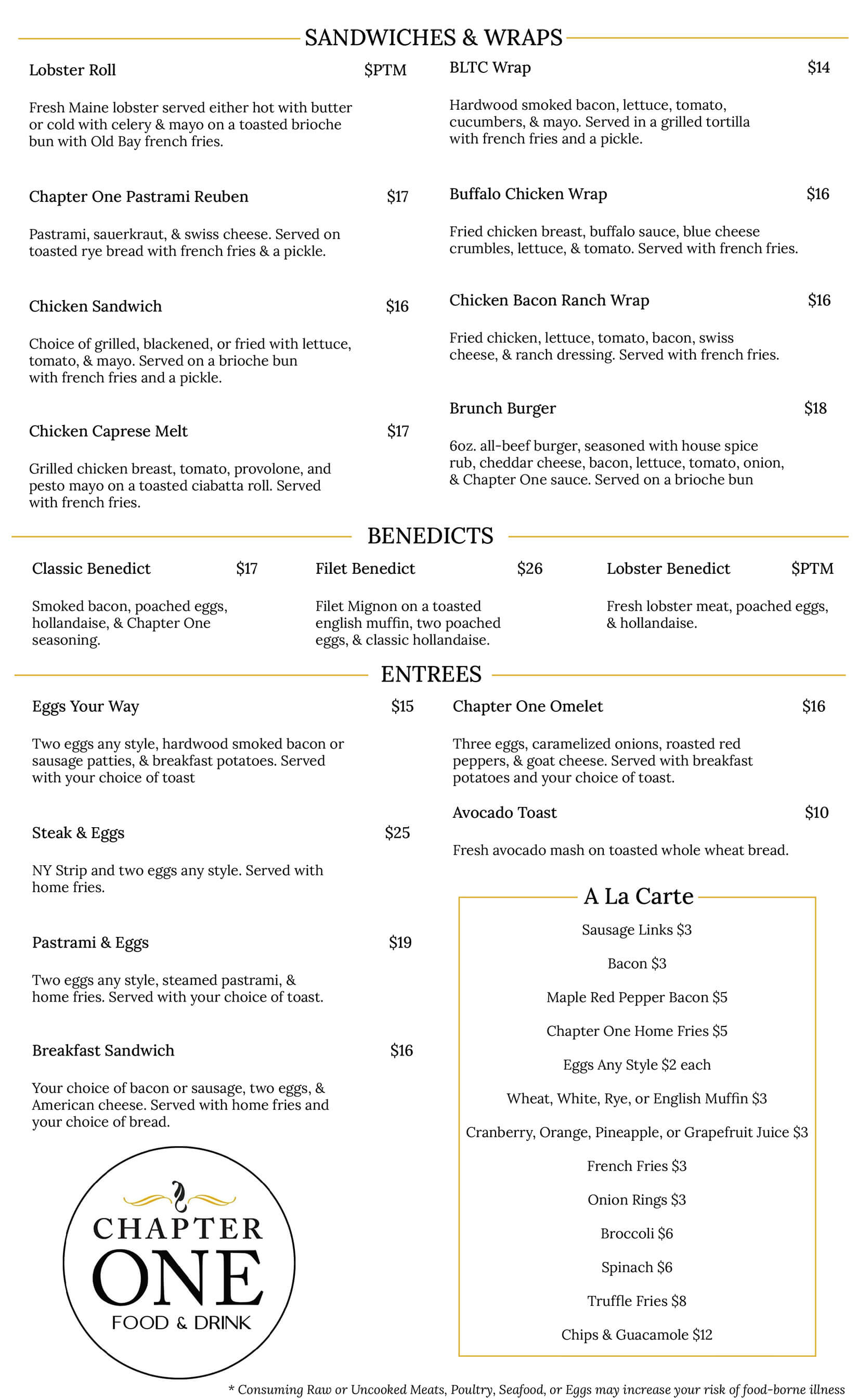 Mystic Restaurant Brunch Menu
Brunch…not breakfast and not lunch but something cozy and magical in between. At least that's what you'll discover when you enjoy a favorite from our brunch menu. Maybe it's a lazy morning meandering around the shops that leads to our delicious Stuffed French Toast.  Your taste buds will thank you as they relish in our thick-cut bread stuffed with maple and brown sugar cream cheese. Maybe you want to fuel yourself for the Mystic Seaport Museum with Chapter One's unique breakfast sandwich and home fries.
Brunch in Mystic CT 
It wouldn't be a brunch without a B.L.T, but we put a twist in and make it a new chapter as a B.L.T.C Wrap. Filled with smoked bacon, lettuce, and tomato, it's the English Cucumber doused just right with mayonnaise and served in a grilled tortilla that will have you wishing every day was a weekend day.
Mystic's charming downtown offers something to delight in every season, and there's no better way to highlight your weekend than with our incredible Benedicts. Filet Mignon or hot buttered lobster with eggs poached to perfection and covered with Chapter One's classic Hollandaise on a toasted English Muffin is just how weekends were meant to be celebrated. Oh, and don't forget our famous Bloody Mary to top the meal off!
Things to Do In Mystic CT 
Whether your day includes connecting with nature at the Denison Pequotsepos Nature Center or taking in the intimate creativity and art at The Mystic Museum of Art, we know you'll find our brunch dishes to be highlights of the weekend stories you write with those you love. We pride ourselves in giving you superior quality and service and helping you make the memories that make the weekend worth waiting for. We're also delighted to try to accommodate any specific dietary needs you may have; simply ask our staff so that we can ensure dining in Mystic is a chapter you'll want to read over and over again!