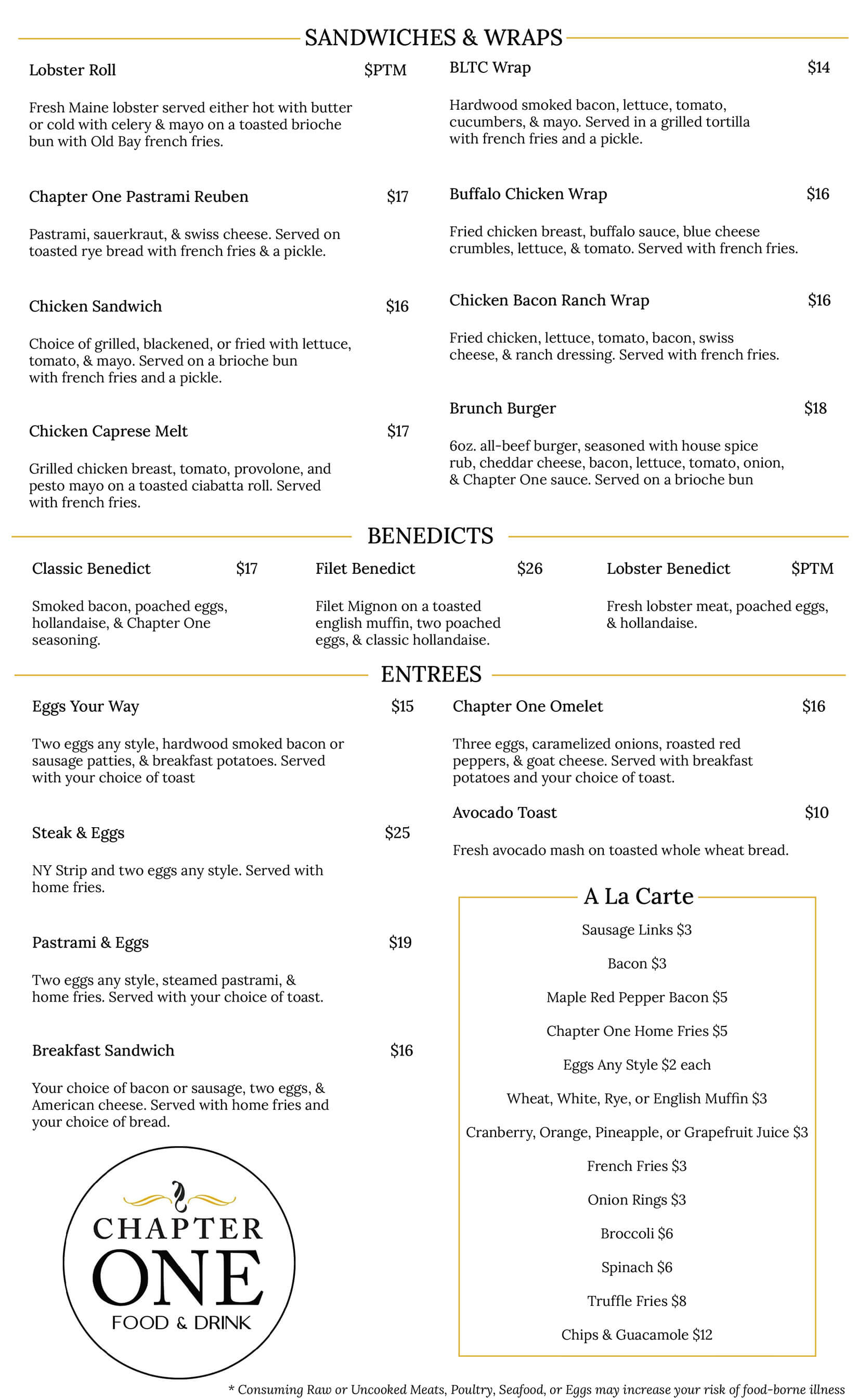 Guilford Restaurant Brunch Menu
It's been said that "A Sunday well-spent brings a week of content," and we stand behind that one hundred percent! That's why we strive to ensure that Chapter One's Sunday Brunch checks all the boxes and leaves you fueled for the week ahead! 
Get Geared Up for the Day with Brunch in Guilford CT
If you're looking to start the week off with a powerhouse bang, you won't be able to do it any better than with our Quinoa Power Bowl. Picture perfectly cooked quinoa paired with strawberry, red onion, and carrots and served over baby spinach with a lemon garlic vinaigrette. The goat cheese and tomato topping couple with a soft-boiled egg and fuel you for a fabulous day of exploring Guilford's idyllic historic Hyland Museum or Downtown Green. 
Our fried chicken cutlets can't be beaten, as they've served over avocado mashed potatoes with a tomato-scallion crema. They're the perfect protein prepared to make your mouth water.
Breakfast Nachos? Count Me In! Favorite Brunch Spot in Guilford
And since brunches were meant to be cozy and whimsical, we can't help but gush over our breakfast nachos. Consisting of fried flour tortillas, smoked bacon, and scrambled eggs, we add roasted peppers, sriracha, avocado, and pico de gallo to the mix and top with cheddar jack cheese for a culinary delight. That's what brunch is all about, right? 
Speaking of what brunch is all about, we'd be remiss if we didn't tell you that our irresistible Lobster Mac N' Cheese will be the stuff you dream of through the week! It's Cavatappi pasta tossed with all the good stuff–heavy cream, garlic, and cheeses, topped with herb-roasted breadcrumbs and of course, fresh Maine lobster. It makes a long work week worth it!
Brunch Bevvies in Guilford
No brunch is complete without our signature Bloody Mary, and no weekend story has a happier ending than when celebrated with Chapter One's Brunch. We're happy to try and accommodate any special dietary restrictions you may have, as giving you the most pleasurable service and experience is our goal. Simply let our staff know how we may serve you!